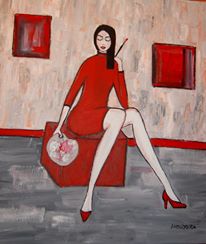 I have always had close relations with art because of my family, my education... Painting, drawing, and writing essays on art is my main subject. I have been cooperating with gallery situated in the Opole Philharmonic Hall.
Painting is my passion and my works found home in numerous places all over the world. I have one main principle: never paint a picture that I would not like to put on the wall in my own house. You are welcome to write, ask me questions, negotiate about details.
My works express my fascination with Woman, her divine perfection, secrets of her soul, joys and sorrows. She is never an object, but subject perceived with empathy and understanding. I am a Woman and I love it! I am a happy painter - people love my art.
Ola Lubczyńska
Public speaking I do not terrible!
---